Our118th and 119th All-Breed Dog Shows and Obedience Trails and 16th and 17th Rally will be in

April 6,7 & 8, 2018
Exhibitors, you can find more information at the:

Held in conjunction with the

Bouvier Des Flandres Club Of Southeastern Specialty
and Mid-Michigan Poodle Club Specialty and more to be announced later.
An Eye clinic and Cardiology clinic will be be held Saturday April 7, 2018
Microchip clinic will be held Sunday April 8, 2018

Canine Good Citizen Test on Saturday April 7, 2018 at 1:00 pm for $5 and is open to all dogs (with general admission). MUST have current rabies certificate. Mixed breeds welcome.

Spectators, please visit our EVENTS page for more information about the times all of the breeds will be shown each day.

All of the information for our shows can be found at
SVKC was founded in 1947. It is one of the oldest AKC clubs north of Detroit.
We would like to take a minute and say Welcome. Please browse through our pages. We look forward to seeing you in the future at a Saginaw Valley Kennel Club Inc. events.
Each year we put on a Conformation and Obedience show held at the Birch Run Expo Center. Check out the events page for more information.
If Interested in becoming a member Please Contact. Club Secretary
Elizabeth Bills
989-893-6813
Club Secretary:
Elizabeth Bills
1701 9th St.
Bay City, MI 48708
989-893-6813
Any corrections or additions please email Lisa Naert at lisk9@yahoo.com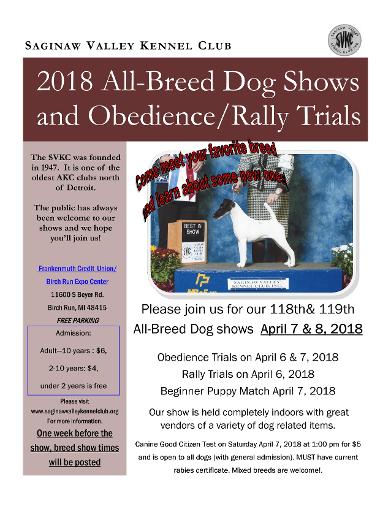 We hope you enjoy this article from DogNews magazine April 2013 by Judge Michael Faulkner called "The Lighter Side of Judging" after his visit to our 2013 show.
Judge Faulkner liked us so much he's coming back for our 2016 show! See our judging panel for a full listing.
DogNews 2013 (go to page 26)